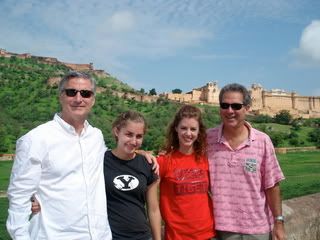 During the month of August my dad, uncle David, and I embarked on a journey to a country on the other side of the world--India. The purpose of our trip was to pick up my sister Mary, who had been living there since May in Dharamsala, a village at the Northernmost tip of India (by the Pakistan and Kashmir borders). She had been conducting a field study on the local Tibetan population in Dharamsala, where, the Dali Lama also lives now in exile. After 30+ hours of travel on various planes and in 3 airports, my uncle, dad, and I arrived in New Delhi, one of the largest cities in the world. From there we headed straight on our 11 hour road trip to Dharamsala. On the way there we got caught in a riot, various roads were unmaneuverable, rain was pouring down in buckets, and at various points (ok at most points) I was sure we were going to die in a car crash. After the initial shock of being in India wore off, we were all too tired to care about things like car crashes, or that our driver was going shockingly fast on mountainous cliffside roads. We finally arrived at our destination at 11 p.m. India time. I slept my myself in a room with bugs crawling on the walls and a bed that looked like it had had better days (like 10 years ago...). That was to be the most crude hotel we were to stay at on our entire trip (though I didn't know it at the time).
After we picked up Mary the next day, and met both of her Tibetan families, we begin our our crazy, whirlwind of a trip. First stop was the Indo-Pakistan border, where a ceremony takes places that is basically of insult-fest for both sides. Then on to Amritsar, the Sikh capital of India. There we visited the famous Golden Temple and Jalianwala Bagh (for descriptions of these places, and to see my entire India photo album, click here). To get to our next destination Jaipur, we took an overnight train (fun times!). In Jaipur we saw the City Palace, Jantar Mantar, and the Amber Fort. After Jaipur we left for Agra, which is, of course, the famed location of the Taj Mahal. On the way there we stopped at Fatehpur Sikri, which is basically an abandoned Mughal city. In Agra we saw the Taj (which was well worth the entire trip), the Red Fort, and Sikandra. From Agra it was back to New Delhi, where we saw too many things to name here.
When I got back to the U.S., everyone wanted to know "How was India?" and "What is it like there?". Most of the time I didn't know how to answer these questions without sounding negative, disheartened, and ethnocentric. It's not that I didn't enjoy India, or that I hated my experience, or anything like that. India is an overwhelming place to visit, more so than any other place I've ever been. It's full of dirt, body odor, cows, orange, spices, ramshackle buildings, and unpaved roads. India is like no other place in the world. You have to go there to really know what I mean. So why was it not one of my favorite places, like I always had thought it would be? Since I was a teenager I was obsessed with "Indian" things. There was the food, the colors, the literature, the henna! But what I thought of as India, this exotic country full of romance and history, was missing from the India I was seeing, the India that was real, or at least, real to me. Why had I ignored all the negative aspects of India that were clearly outlined in all those books I had poured over ferociously? Its like all those Bollywood movies; so beautiful and romantic, so different and cool. I saw glimpses of this India, the India of privilege, of beautiful people and things, of love and breathtaking landscapes. But more often than not, the privilege hid behind the thinly veiled poverty of the other 98% of Indians; the beautiful people were beautiful only because they were Northern, light skinned Indians, and "love" was really just arranged marriages between girls just entering puberty and women made old from toiling there days away taking care of everyone but themselves.
Yes, India is full of its own brand of beauty, that can not be destroyed despite its many problems. Maybe my expectations were too high. Maybe I was naive. I read the statistics without really understanding what they meant. I wanted a vacation and got a stressful, eye opening crash course in India instead. Do I regret it? No, of course not. How could I? When I learned so much? About myself. My capabilities, my weaknesses, my ignorance, and my extreme luck in being born into a family who has never wanted for anything. I am blessed. So next time you or I start to complain that we don't have enough of whatever it is that we WANT, remember that we already have it all and more. We are the blessed of this world. And we have nothing to complain about.